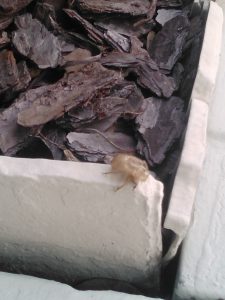 There are days I wish I could shed just like the cicada that left behind this skin. Well, perhaps not actually step out of my skin, but rather shed things which hold me back: my own limiting thoughts on who I am (or "should" be), how I am "supposed to" be successful at life, how "stupid" I was when I made a "bad" decision (even when "bad" led me somewhere wonderful), and whether I will ever be good enough. Thoughts that make me feel "less than" everyone else: less intelligent, less attractive, less desirable, less able.
I just want to step out of them and walk forward, leaving them behind. I cannot change the past, so I want to shed it. Move beyond them once and for all, and stop getting drawn back into old thought patterns that do me no good.
But life isn't like that. I think the trick is to keep looking forward, to keep aiming in that direction, even when the voices in our heads are a constant babble of all the reasons why we shouldn't. I am discovering that when I question those voices, it helps to quiet them a bit. The more often I do it, the quicker I am at catching them when they start again, and asking myself "is that really true?"
While we may not be able to shed our skin, we can do some things to symbolically shed some of our past. I encourage you to take a moment and focus on an event from your past that keeps coming up in your mind, or a message you keep telling yourself even when you know it isn't true. Write it down or speak it out loud. If you write it, then draw a big X through it and write over it 'NOT ANY MORE!!!!' (or whatever symbols and words feel right). Then tear up the paper and throw it away, or burn it (in a safe manner.) If you speak it out loud, state it and then loudly add "NOT ANY MORE!!!" You can do this by yourself or in front of someone you trust. Pick what feels right for you and (to borrow a phrase from Nike) JUST DO IT!
Be warned: one time will probably not totally remove the thoughts or memory, but you will have planted some new seeds in your mind. Seeds that will sprout and grow into new thoughts. Thoughts that reflect who you are now. It is all part of the journey of life that we may need to return to the same, or similar, themes again and again. It is all just a part of shedding.