I walked on the beach this morning. It was mostly cloudy, which was a nice change from the hot sun. At my half-way point, I turned and headed back north. The sun also started appearing from behind some clouds, and I noticed this: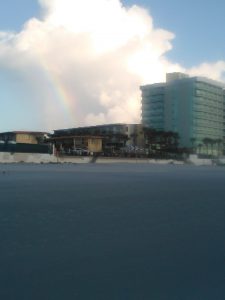 A rainbow! (Sorry, it doesn't show up very well in the photo. You really did need to be there.) What an amazing start to the day. This is why I love to be outside – you never know what is going to appear.
The rainbow has a long history of symbolism between earth and the heavens. When I see a rainbow, I feel hopeful, as if I am given a message that I am on the right track. Keep moving forward because things are going to work out!
This week has been somewhat frustrating. I'm trying to develop a planning system that works for me and all the various things I am trying to do. Such is the life of a multipotentialite! And this week was a challenge. But I kept questioning WHAT wasn't working and HOW I could change it to work better.
And then I saw this! Yes, it has been a good day.
Hope it was the same for you!