We read for many reasons, and escape is often one of them. During hard times, whether global ones we face during the coronavirus pandemic of spring 2020 or more personal ones, getting lost in a good story gives some relief from concerns.
How Reading Helped Me Escape
In the winter of 2001, while my marriage crumbled and I could do nothing to salvage it, I looked for something to ease my pain. I found a much-needed escape reading Ice Bound. It is the true story of Dr. Jerri Nielson who, while working at the South Pole, discovered a lump in her breast. As the only medical staff for the scientists and crew stationed there she had to perform the biopsy on herself then begin treatments.
I found myself riveted by her story and read as much as I could between my daily chores. It was such a relief to get lost in someone else's story, allowing me to momentarily forget the drama swirling around me.
Why Am I Writing?
Fast forward nineteen years to winter and early spring of 2020. There were news reports from China about a virus causing cities to shut down, but I was focused on a thought in my head – why am I writing? Is it really what I am called to do? Is there something more valuable I could do with my life?
While I am not finding cures for medical conditions or helping people out of poverty, I realize that I can offer people a way to escape from struggles and anxiety they are facing. Being able to step away can give your brain a rest from worry and let your body relax. I may not solve the world's problems, but I can offer an outlet.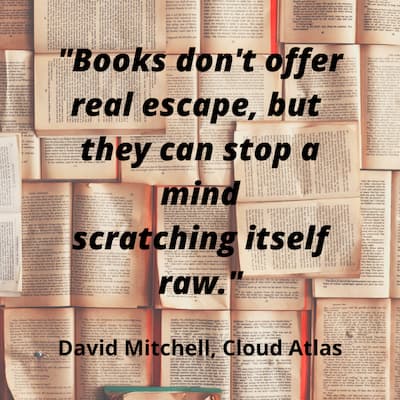 People face challenges every single day. Even people I am close to deal with things I have no idea about. And as I write this in April 2020, much of the world is shut down as we struggle to deal with COVID-19, and the health and economic impact in its wake. It is easy to get caught in endless news reports of the latest grim statistics, and I want to encourage you to give yourself a break from that.
I hear people say they cannot focus enough to read but are finding some relief in watching movies and TV shows. I also hear stories of increased sales among books that talk about world conditions like we face now. I cannot imagine reading that now, as I want to escape, but perhaps others take comfort in finding stories that show it will turn out okay in the end. Or, realizing what we are dealing with now isn't as bad as what is written on a page.
Reading Resources
If you are looking for more to read, there are many options thanks to technology. With a computer and an internet connection, you can download free ebooks and audiobooks from your local library. Many have lifted restrictions on the number you can check out at one time.
There are other sources for free and low-cost ebooks. Project Gutenberg offers free access to hundreds of books. BookBub lists books that are on sale or free for a limited time. You can even sign up to get a daily email with new offers. Freebooksy is another wonderful source to discover free ebooks.
Maybe this is a good time for you to work through your to-be-read pile. I know I have a large stack of physical books and way-too-many ebooks on my Kindle (thanks to being on the BookBub mailing list!).
Reading may not solve the problems we face today, but a good story can give us a much-needed break and allow us to relax for a while. We may not be able to take a trip we had planned, but we can escape to exotic destinations through books. We may not be able to hand a favorite book to a friend, but we still can share through phone calls, text messages or Facetime what we read and enjoyed.
Your Turn
Are you reading more these days? Are you reading in the genres you usually do, or are you drawn to read something else? Please leave a comment and share anything good you've read lately.
Want to learn more about The Stonemasons Secret? Join my VIP Reader's Group to be notified of new blog posts, publication updates, and exclusive downloads!