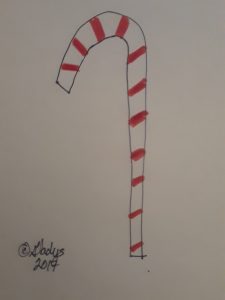 There were always candy canes in our stockings on Christmas morning. According to Momma, Santa not only put gifts under the tree, he also filled our stockings and left a candy cane at the top.
Each December, we pulled our stockings out with the rest of the Christmas decorations. Handmade for us by Grandma, we hung them on the mantle above the fireplace waiting for Santa's visit.
Christmas morning, we'd open our gifts, then turn our attention to the stockings. Removing the candy cane from the top, we'd pull back the plastic wrapper, put one end in our mouths, and enjoy the peppermint sweetness as we emptied our stockings. Playing with our gifts, we'd continue sucking on the candy canes, which grew shorter by the minute. The last of them would be in our mouths as we helped pick up discarded wrapping paper and bows with sticky fingers.
Years passed. My sister and I grew older and learned who actually put gifts under the tree and filled our stockings. Later, we moved away, got married and had children, events that added more stockings to the mantle. Momma and Daddy moved to a new house, one with a mantle large enough to accommodate all the stockings. We still woke on Christmas morning to find a candy cane in each stocking. It was a tradition we loved and expected.
Then one year, Momma called me and my sister aside, lines of frustration showing on her forehead. "I need you to go to the store."
"What's up?"
"I can't find the candy canes anywhere."
"Do you want us to help you look?"
"I've already looked everywhere! Maybe I forgot to buy them after all."
We told her not to worry about it, grabbed car keys and headed out. We fought a packed parking lot, a crowded store, and a long wait in the check out line to keep the tradition alive another year.
After I divorced, I didn't bother buying candy canes at Christmas. I was alone some Christmas mornings and had no place to hang stockings. Besides, Momma had them in the stockings at her house. Even after meeting my husband, and moving in together, I still don't buy candy canes. He isn't concerned about decorating for Christmas and he doesn't like sweets, so there is no reason to renew the tradition.
But now he has a grandson, and I'm thinking the time may be right. I'll make a stocking, find a place to hang it, and put in a candy cane on Christmas morning, saying Santa left it just for him.
You can listen to an audio version of this story on Podomatic and YouTube.