I don't remember Christmas when I was two years old. Pictures show me smiling as I sit on my new tricycle. On the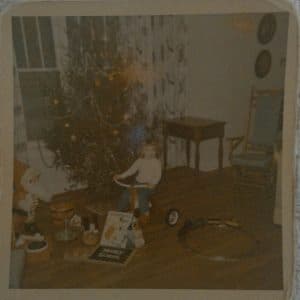 floor around me are my other gifts, including a small train track with a few cars on it.
According to the story, my dad wanted to get me a toy train set for Christmas. "You can't give a girl a train set!" my mom told him. "Why not?" he asked. He thought it was a fine gift for any child. As the second of 3 boys, he wasn't around girls while growing up so his reference point was what he and his brothers had played with.
I am sure you can imagine who actually played with the toy trains. Growing up he always had to share with his brothers, but this time he was in charge. In fact, I'm not sure if I ever played with it, and since I had one sibling, a younger sister born 7 months after I received it, my dad probably played with it more than anyone.
Twenty-five years later, my mom mentioned that several of their friends were putting train sets under their Christmas trees as decoration. She thought it was a fun idea, and of course, my dad was fascinated to watch them go around. That gave me an idea.
My dad was always hard to buy gifts for. If he asked for anything, it was something practical that he needed. A homemade card meant more to him than anything that could be bought, and in later years, his usual reply was "just come home for Christmas." So buying him a train set, one that was his – no sharing with brothers, no pretending it was his daughter's gift – seemed the perfect opportunity to give him something fun and completely unexpected.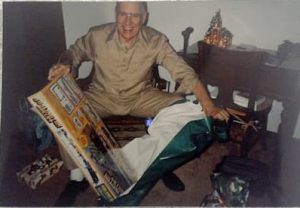 The look of joy on his face when he opened that gift is one of my favorite Christmas memories as an adult. I didn't often surprise my dad, but the train set did. It was larger than the one I received, both in the number of cars and the size of them. After Christmas, he carefully padded the top of the dining room table, placed a large piece of plywood on top, attached the track, and played with the train set for months. He added more cars, and more track to handle them. Eventually, it entertained the grandchildren as it ran under the soft glow of the Christmas tree lights, letting a third-generation share the joy of toy trains at Christmas.
You can listen to an audio version here.