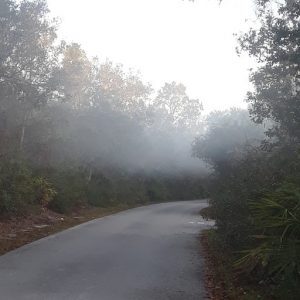 We always reserve the same campsite, our home away from home. There is comfort in knowing what to expect, where the fire pit and hook-ups are located, and how we need to back in. It may not be adventurous, but since we only go for two days, the familiarity helps us relax and enjoy the time.
As the seasons change, the campsite also changes. How the sun hits the camper at high noon, which shades need to be closed to keep the sun out, how green the trees and shrubs are to block our view of neighboring campsites. And this morning, there is something new. Stepping out of the camper, I don't notice it, but turning to walk down the hill to the bathhouse, a light layer of fog is visible, beginning about 15 feet above the ground. It doesn't block out things out, just gives a misty haze to the trees and the rays of sunlight streaming through.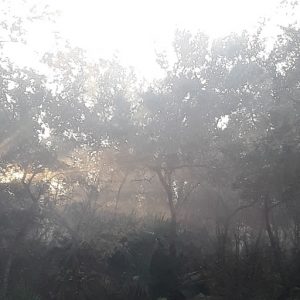 It is quiet this morning. The only sounds are cars and trucks on nearby roads, planes flying overhead, and birds chirping up in the trees. The fog adds to the stillness.
It is chilly out, so I sit by the dying campfire. Plenty of heat still radiates off the wood, so my front is warm while my back is cool. I move my chair closer, and lean in, feeling the sting of the intense heat on my face.
A wiff of food cooking reaches my nose, and I realize I am hungry. A man and dog walk by, and I hear camper doors open and close. The sun is rising higher in the sky, burning off the fog as it does. It is time to gather what I need to prepare breakfast. It is time to begin the day.
You can listen to an audio of this story here.