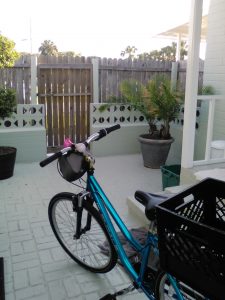 I bought a bicycle a couple of years ago, but after a handful of rides on the beach, it was put away. Last fall, desperate to lose weight and get off my blood pressure medicine, I began cycling through the neighborhood once or twice each week.
Over time I worked out a route going up and back down the generally flat streets, weaving a pattern through the neighborhood that kept me off the busy roads and gave me a good 30 minute ride.
I also discovered that if I rode on Monday mornings, I would have a chance to check out potential treasures left on the curb. Monday is one of our trash pick-up days, and after having a weekend to clean, declutter, and repair things, many people had things out. So with a rack and milk crate added to the back of my bicycle, I was on the hunt for things we could use or resell.
You learn some interesting things checking out the trash. And I'm not even talking about opening the bins to see what is inside; these are things sticking out or just set on the ground. One Monday I saw 4 old toilets out on the curb. They were all on different streets, but it seemed several people found they needed to replace their toilet that weekend.
I can also tell who had a party over the weekend by the beer cans/wine/liquor bottles in the recycling. I can tell who has moved out – or who is about to.
And the amount of furniture put out is amazing. You could easily furninsh a house in a couple of months as long as you didn't mind beat up, damaged pieces, or had the time and talent to revitalize them. Much of it is made of particle board and through use, abuse and sitting outside it is unusable.
I read a statement in a book recently that is making me take a different look at my morning rides. The idea is that people have the ability to become invisible because most people don't see what is right around them because they don't really look. They don't try to notice what is nearby. Although the book is fiction, I think there is a lot of truth in the statement.
So how much do I notice on my rides? Aside from what trash is being put out, here's been some observations:
A couple of houses that have window air conditioners running. Based on the sputtering, clanking sounds that I heard, I'm not sure how much longer either is going to be functioning.
Cats. There are cats in yards, cats crossing the street, cats laying on sidewalks and even in the street. Most hardly notice me. Generally the dogs I see are being walked on a leash, but this week I saw one sitting on the front porch. Well, I noticed it when it barked at me, but it didn't even stand up. When I rode back down the other side of the street, it didn't even bark.
And then there was the morning a couple of weeks ago when I rounded the corner to see one cat in the street, hunched down and staring at another cat. As I approached, the 2nd cat turned to move under a car parked at the curb, and I realized it wasn't a cat at all. It was a possum. He sat still under the car as I rode by, which distracted the other cat and sent it back to the other side of the street.
Mostly my attention has been on two things: the cars moving through the streets, especially those backing out of driveways, and trying to eyeball interesting things in the trash. The first is for my safety; the second to provide some additional income.
But I want to become more aware of what is actually around me. Are there people sitting on porches watching me? Is there a different car in front of a house? Why do some streets seem to always have a lot of trash worth looking through while others never do? All questions to be considered on future rides.