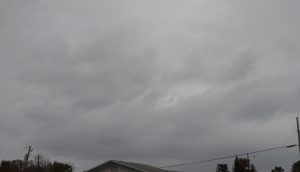 It has been cloudy and cold this entire month. I moved to Florida to get AWAY from this weather, but it occasionally finds me. Looking out at the gray clouds see in the picture reminded me of a time from my past, a week of gray, cold weather when I was a teenager. This was before I had ever heard of Seasonal Affective Disorder (SAD) which I believe is part of what was going on with me. It is a short story that you may be able to relate to. 
It was late January my freshman year in high school. As I sat in the front passenger seat of the car in the school parking lot, I looked out at the gray sky and shivered.
Heavy, dark gray clouds hung below the lighter grey sky. It was hard to tell where they ended and the gray concrete blocks of the building began. Even the trees, bare of their leaves, were a grayish black. How many shades of gray were there?
It had been this way for about a week, and I wondered when it would end, even if it would end. I could handle cold if there was at least some sunlight to warm my soul, if not the air.
The cold gray outside reflected how I felt inside – dull and lifeless. All I wanted to do was crawl into bed, pull up the covers, and not emerge until it was sunny and warm, there was color to be seen, and my soul brightened up.