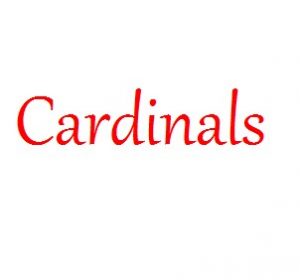 Sometimes, when I bend down and look under the awning over the bathroom window I can see him. A male cardinal sitting near the top of the neighbor's tree. A bright shock of red that stands out against blue sky and green leaves, that also provides much-needed color on gray days.
The tree is often a bother, dropping small leaves that land among the small lava rocks that border the patio. It seems I am constantly picking them up. Yet, that tree gives the cardinal a place to land so that I can see him, a sight that always makes me happy.
—
My great aunt began every day feeding the squirrels and birds that filled our yard. First, she would throw birdseed on the ground and placed it in feeders. As the birds began to arrive to eat, she'd crack open the pecans to feed the squirrels that would take them from her hand. Of the numerous birds that arrived, the red feathers of the male cardinal were the easiest to recognize, and the first bird I could identify.
—
Many years later, I moved to Memphis and discovered that a bush outside the garage was home to a male and female cardinal. After watching them flying in and out of the bush, I carefully pulled back the branches and discovered the nest they were building. A careful look a few weeks later revealed three pale, speckled eggs. Then one day I walked by the bush and was surprised as a flash of red flew out of the bush, just missing me. The male cardinal was warning me to keep my distance from the featherless babies that now inhabited the nest.
—
I moved a mile or so away a couple of years later. Sitting on my back patio, I enjoyed the variety of birds that flew by: mockingbirds, robins, blue jays, and cardinals. I often wondered if those cardinals were related to the ones who built the nest in the bush by the garage of my former home.
—
I don't see as many cardinals in Florida. They don't stop at the birdbath outside the living room window, perhaps because it is often filled with mockingbirds, doves, finches, small blackbirds, and the occasional woodpecker. So anytime I do see them, whether on the utility lines behind the house or perched atop the neighbor's tree, it is a happy sight.