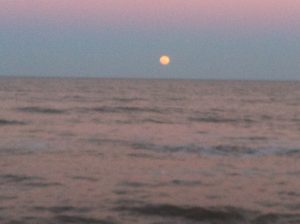 Today is a full moon. For centuries the full moon has been blamed for madness, werewolf transformations and an increase of strange behavior (based on stories from First Responders and Emergency Room workers). While there isn't scientific evidence to support these beliefs, the stories continue.
For me, however, the full moon has always been magical. Waking up as a child to the light of the full moon streaming in through my bedroom windows, I would look around the room, amazed at how much light there was in the dark room. It seemed as bright as the sun – it is sunlight reflected off the moon's surface after all – but the light is different, subtler, softer. When I got older, I realized that under a full moon I could walk around outside without the need for a flashlight. I have a friend who makes it a point to take a walk under the light of the full moon each month, soaking in its magic. I like this idea, and if I can't walk, I will stand outside and look up, the light of the full moon shining on my face.
—————————————————————————————————————–
My favorite memories, however, are from when I lived aboard my sailboat. Here's that story:
I crawl into the berth at the back of the boat and settle in for the night. Looking up, I can see out the open hatch. While the lights from the marina block out most stars, I can see the backstay running from the top of the mast to the stern of the boat just behind my bed.
A breeze moves the boat, gently rocking me to sleep. A few hours later, I wake up and realize my cabin is filled with light. Looking up through the hatch, I see the full moon, perfectly positioned to shine on my face. It is only a few days each month that the moon is in the right position for this to happen. Mentioning this to a friend, she asks why I don't close the hatch, and maybe even cover it, to prevent the light from waking me. Because I like the moonlight on my face, I reply. It is only a few days each month, and I enjoy lying there, in the quiet of the night, watching the moon.
The return of the full moon reflects the rhythms of nature, marking the passage of time. I reflect on what has happened in the past month, when the moon last visited during the night, and wonder what is to come in the next.
Those thoughts float through my head as the moon slowly moves away from my face. Sleep returns until the light of the sun begins filling the cabin. Another reminder of the rhythms of nature, the passage of time. A new day begins. And before I know it, enough days will pass, and the full moon will return.