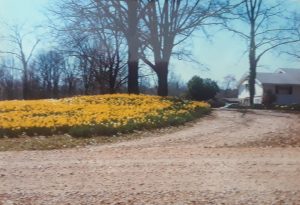 "Ten thousand saw I at a glance, tossing their heads in sprightly dance."
William Wordsworth (1770-1850)
The dirt road rises and the dense woods open to reveal the cleared land where our house and yard sit. Row upon row of bright yellow daffodils blanket the hill beside the road and driveway, a guide to the entrance. Even though there is still a chill in the air, I excitedly think "it is spring!"
A second large patch of daffodils decorates our backyard. When in bloom, they cover almost half the grassy area where I practice cartwheels and round offs. Daffodils also circle a large oak tree and are scattered in clusters around the yard.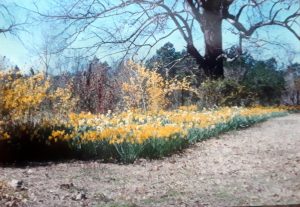 Daffodil is the common name for any of the varieties that fall within the Narcissus genus, a member of the Amaryllis family. Thought to have originated in the woods and meadows of southern Europe, particularly the Iberian Penninsula, and North Africa, they spread out from there reaching Asia by the 10th century. Their popularity grew in Europe after the 16th century and they were the subject of poems by William Shakespeare and Willliam Wordsworth. Settlers brought them to the American colonies, and today they can be found throughout the United States.
"Daffodils,
That come before the swallow does, and take
The winds of March with beauty." 
William Shakespear (1564-1616)
When I was about seven Aunt Kate had me help her plant a small row of daffodil bulbs in an empty space between two outbuildings we used for storage. I helped her dig out a trough and watched as she planted the first bulb, showing me how to correctly place it. She had me plant the remaining 8 or 9 bulbs, then fill in with the dirt we had dug out. Handing me the metal watering can, she told me to give them a good soak to help pack down the dirt and set the bulbs. (Tips for planting and growing your own daffodils.)
The next spring, like magic, the leaves and buds appeared, opening their trumpet-shaped blooms a few days later. I was excited to have planted something that actually bloomed, not realizing that daffodils are some of the easiest flowers to grow. Seeing the daffodils return each spring always brought a smile to my face.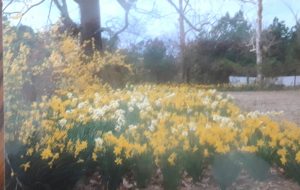 Daffodils have a long history of breeding and by 1739 Dutch nursery catalogs listed 50 different varieties available. Today there are between 40-200 different daffodil species and 25,000 hybrids registered in a 13 part classification system.  I had no idea daffodils came in so many varieties even though Aunt Kate once tried to teach me the different ones that grew in our yard. I only remember her pointing out jonquils, buttercups (which actually are not daffodils), and my favorite name, the double daffodil "Scrambled Eggs", whose center does indeed resemble scrambled eggs.
I often walked among the rows of daffodils, picking a few and catching a whiff of the scent in the spring breeze. Bending down to sniff individual blooms, I noticed some were stronger than others. When I was 16, I picked handfuls of daffodils, stuffed them into a wide-mouth vase and placed them on the nightstand beside my bed, a cheery sight when I entered my room. Laying in bed that night, I noticed the scent was rather strong with so many blooms crammed together, and I woke the next morning almost overpowered from the scent filling my nose and tickling my throat. Still, I loved it and kept them there as long as possible, removing dead ones, and dusting up the yellow pollen that coated the table each day.
The daffodils would bloom for a few weeks unless a late freeze or frost killed them. As the blooms died, we would deadhead them, pulling off the dried, shriveled, brown heads. The leaves stayed green for a few weeks, but once they began to yellow Daddy would mow them down, allowing the bulbs to begin creating the flowers for the next year.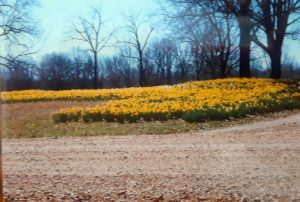 After Momma and Daddy sold the house and moved to town, Momma planted daffodils around their new yard. Not only was she carrying on the family tradition, she was also celebrating the annual Daffodil Festival in my hometown of Camden, Arkansas. Long associated with spring festivals, daffodils are celebrated annually in other parts of Arkansas and throughout the United States.
I don't know if the daffodils, especially the small row I planted, continue to bloom around the old house. If they do, I hope the new owners enjoy them. I miss seeing them each spring, yet spending most of my adult years renting or moving didn't make it feasible to plant my own. Maybe now is the time to change that. Daffodils grow in zones 3-10, and while there is mixed information on how well they do in Florida, I am in zone 9a so it is worth a try. Time to take a look at what is available, order a dozen or so bulbs, plant them around the yard and renew the tradition of welcoming spring with daffodils.
Sources:
American Daffodil Society, https://daffodilusa.org/
Southern Living, https://www.southernliving.com/garden/flowers/daffodil-flower-facts
Todayshomeowner.com, https://www.todayshomeowner.com/whats-the-difference-between-daffodils-jonquils-and-buttercups/
Wikipedia, https://en.wikipedia.org/wiki/Narcissus_(plant)
Click here to listen to the audio version of this story.