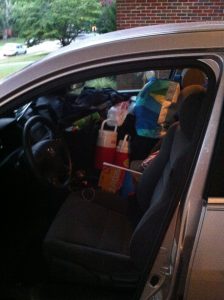 On Saturday, September 7, 2013, I loaded everything I owned into my Honda Accord, and over the next 13 hours drove 800 miles to begin a new life. I had spent several months going through everything I owned, and gave away, donated or sold anything I didn't believe had a place in my future. I was moving to Florida, so I didn't need heavy winter clothes. Living alone I only needed basic cooking and eating supplies. I finally realized that it would be cheaper to sell my furniture and buy what I actually needed once I got there, so that went as well. I was ready for a clean start.
The move was 4 ½ years in the making. I had finally admitted that I did not like being cold, that winter did nothing for me other than make me depressed; I needed to be outside more and I needed to be near the ocean. I wanted the freedom to work for myself, to be in charge of my schedule. I made the choice to quit my job and leave behind good friends to make it happen.
My birthday is a time of reflection, of looking back on where I've been and where I want to be. It isn't so much about setting goals and resolutions, but about what I want to focus on, to bring into my life over the next 12 months. So, it is no surprise that my move was a few weeks before my birthday.
And this year, around my birthday, I am reflecting back on that move, on how much my life has changed since then, about how I now live the life I had dreamed of for several years. And I wonder about others who, in times past, made a similar change. Who packed up all they owned, traveled many miles, and began a new life away from friends and family. Who, like me, did it by choice.
Specifically,19th-century settlers who kept moving west across the United States. Maybe it is from watching Westerns with my boyfriend, or maybe it is because that is when my ancestors moved from the Carolinas and Alabama to Arkansas where they stayed. Whatever the reason, I am curious about the people that loaded up wagons and set off into the unknown.
My move took one day, and I was immediately able to get in touch with friends and family during the drive and upon arrival. What was it like to leave behind loved ones and know you would never see them again? Did they pack all they owned, or did they, like me, leave things behind? How did they know what to take, or did they guess and take the wrong things? And my big question, why? What were they looking for, hoping to find? Did they find it? Did they see themselves as brave? Foolish? Determined because they had a feeling they just had to go? How did their families feel, both the ones that went with them and the ones left behind? What about my ancestors? Why did they make the move? Was it by choice? Did they find what they were looking for?
You may see where this is going. I have a lot of questions and I love to research, so I'm taking this on as a project. Right now I'm calling it "Moving On". I'm not sure what will come out of it. Maybe some articles, maybe a book. I am curious to learn more and see where this takes me. I'll post updates on the blog; you can find them under the category Moving On.
Join me on this journey!
You can listen to an audio recording of this story here.