I first heard about this year's total eclipse from on a TV commercial. "I'll have to watch that," I thought. Later, I began to hear where the band of totality was going to be. We weren't in it, but would be close enough to witness changes. As the day neared, excitement was growing, both in the media coverage and in me. I thought about getting eclipse glasses, but by now supplies were running out. Even with them I still wasn't sure I'd take a look. After having cataract and LASIK surgery on both eyes last year, I did not want to do anything that might damage my eyes. Maybe I would do what I'd done in grade school during a partial eclipse – put a hole in a piece of paper and let the light shine through that onto the ground.
But I am trying to be more mindful, to live in the present moment, to really take notice of all that happens around me. I decided that instead of looking UP like everyone else, I'd look AROUND and notice how the earth was changing. How different would my yard look? Would the temperature cool noticeably? Would animals behave differently?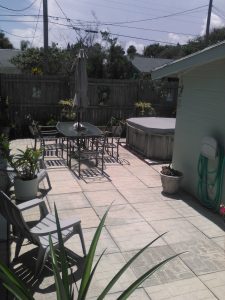 As the eclipse began, I went outside and took pictures. I wanted to create a picture story of what I experienced. Coverage on the TV was showing what people in the path of totality were experiencing, and while I knew we would not get that, I was excited and curious to see what we would get. Every 10 minutes or so, I'd go back out to see what was happening. About 90 minutes after the start, we reached the greatest coverage.
I was disappointed.
There were noticeable changes but they were subtle. There was still plenty of sunlight casting overhead shadows on all objects. The light was different, but my phone's camera couldn't capture it. I wanted to describe it as if a cloud was blocking some of the light, but that wasn't right either. It might have been compared to dusk, when you can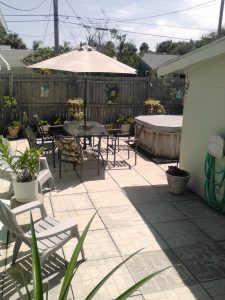 still see easily, yet it was coming from overhead and casting very short shadows. Not like the long shadows of evening at all. The temperature only dropped about 3 degrees F. A cooling breeze was noticeable, and this wasn't the typical sea breeze we get in the afternoon. The birds were no where to be seen, and the lizards that normally run around our garden and patio were still there.
I consciously chose to do things different from most people. I wasn't traveling to be in totality; I wasn't going to use eclipse glasses. I was instead going to focus on what went on around me, and record my observations. A different way to experience the eclipse. And it was boring.
I didn't have this great experience of observing nature. I didn't have a great story to share. Changes were subtle and I couldn't find the words to describe it. The photos weren't showing what I was experiencing. I second-guessed my decision not to get eclipse glasses so I could have at least watched the moon pass across the sun. If I had seen the partial eclipse, I could have at least experienced – and talked about – that.
As I tried to stay present, I suddenly realized something. Although it was mid-afternoon, I didn't need my sunglasses to walk around outside. I wasn't squinting at all. Even on cloudy days, I often need them because of the glare. While that may not mean much to many people, to me it was extraordinary.
The minutes passed and more of the sun was exposed again. Light began returning to what it had been pre-eclipse. I had heard that we were to get 80% coverage, but I questioned if it was less. Back inside, I looked it up: nearly 90%. Just over 10% of the sun's light, was shining down. This surprised me. Even from such a small part of the sun's energy, the light and the heat were only slightly changed. A surprising reminder of the power of nature.
I wanted to have some great story to tell, a unique perspective that shed a different light (sorry about that pun) on the eclipse experience. And I had it; it wasn't dramatic and exciting; it was a harder story to tell.
And maybe that is the point. By choosing to be present and look at the world around me, I noticed change that was small and subtle. I am left awed by the true power of the sun; even if nearly 90% of it is blocked, there is still light and heat reaching 93 million miles away.
Everyone has a story to tell. They aren't always big and grand, and I don't think they should be. It is in the small things, the often overlooked things, that life happens. It is also those things that can connect us and help us relate to one another. We can all share our #eclipse2017 stories, to see how our experiences were the same and how they were different. We can relate and we can learn. Perhaps that is the story that needs to be told.
What was the eclipse like for you? What did you notice? Please share your story in the comment!