September 1988 – my first full month in England
A lot of new things to experience: bottles of fresh milk on my doorstep in the morning, lighting a coal fire, turning on the boiler to heat water and warm the house (and turning it off to save the oil in the tank outside, and driving on the left side of the road.
The Highlight
The highlight of the month happened near the end. Diana, the Princess of Wales, was scheduled to appear 10 miles south of where I lived, opening a new wind at the hospital then doing a walkabout in the market. I could not believe it. Long a fan of the royal family, I had hoped for a chance to see them up close during my year there, and after only a few weeks, an opportunity was just down the road close by.
The day was sunny but chilly. Arriving in Beverly, I found rows of people lining the Market, many of them little old ladies who had staked their spot and were not giving an inch even to their friends. Realizing I had little chance of getting close enough to actually talk to her, I found a spot and settled in. The buildings blocked much of the sun, so we all stood shivering, watching and waiting.
She Arrives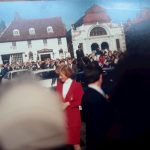 A rising noise from the crowd signaled the arrival of the procession of cars. Diana stepped from one, instantly warming the day with her bright red suit and brilliant smile. After shaking hands with a few of the local dignitaries (who appeared to be as enthralled with her as I was), she began making her way around the Market, never rushing from one person to the next.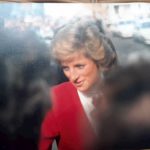 At last, she is near so I put out my hand like everyone else. I hear her chat with the ladies in front of me, commenting on the cold and sharing that she even had her vest (wool undershirt) on to help stay warm.
Then, She Is Gone
Then she moves down the line, never touching my hand, my chance gone. Soon, she has finished and with final waves to the cheering crowd, returns to the car which whisks her away to her next engagement.
Lasting Impact
Thirty years later, those few hours have stayed with me. I remember her poise and grace, a smile on her face the entire time. She shook many hands that day but made time to stop and chat with people along the way, never rushing from one person to another. If she did not want to be there she hid it well.
Reflecting on this, I want to learn to be like that, present in the moment, focused on what is before me and not rushing on to the next thing. Going about my daily responsibilities with a smile on my face, and hoping that people I encounter along the way have a positive memory of me.