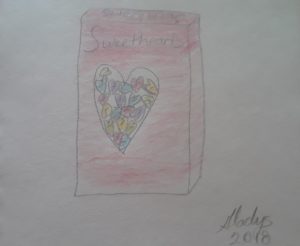 Our classroom was filled with restless children, ready to get started. Before the party could begin, however, we had to make a container to put our Valentines in.
Taking out an old shoe box brought from home, we'd first cut a slot into the box top so the Valentine cards could be slipped in. I don't recall any injuries, which is amazing considering twenty-something awkward, excited kids were using scissors. Next, we'd wrap the box and top in craft paper, then decorate it with an assortment of construction paper, ribbons, crayons, paper doilies, and glitter.
Hearts were made by folding a piece of construction paper in half, then cutting half a heart along the fold. When opened up, it made a whole, symmetrical heart – something I could not do otherwise. Paper doilies could be left whole, glued on, and adorned with the construction paper hearts, or cut into pieces and scattered about the box. Crayons added further decoration and as did a squeeze of glue sprinkled with glitter. I can only imagine the mess left for the janitors to clean up later that afternoon.
Once finished, we'd proudly place them on our desks, pull out the Valentine cards we'd brought from home, and slip one into the box of every other kid in class. No one was to be left out, even the snot-nosed kid who was always picking on me. Most of us gave simple Valentine cards purchased in packages, but sometimes we'd receive something extra. The Valentine card might have a sucker inserted into holes that pierced the paper or, if we were lucky, receive a box of Sweetheart candies.
These heart-shaped candy wafers were packaged in small, rectangular boxes with a heart-shaped window on the front, allowing a view of the candies inside. On the back was another heart with space for writing the name of who it was To and From. The pastel-colored candies were printed with Valentine Day sayings such as Be Mine, Love You, and Kiss Me. They were easy to chew for a quick sugar-rush, but if you had the patience, you could suck on them for a few minutes and savor their tangy sweetness as they melted on your tongue. There were other goodies to enjoy at the party that followed so I'd save mine to eat on the way home, or for a treat the next day.
Sweetheart candies are still around, but with a few changes. In 2010 the formula was changed to produce a softer candy in more vivid colors and with a more intense and sour flavor. The sayings printed on them have evolved as well, and now include Text Me, You Rock, and Tweet Me, all reflections of the current times. It doesn't matter how they look and taste now. Just seeing the boxes of Sweetheart candies takes me back to my school days, when Valentines was a day of awkwardly delivering Valentine cards to classmates, hurrying back to my desk to see what I had received, and savoring the Sweetheart candies.
You can listen to the audio version here.
Subscribe to the monthly newsletter "Writings For Curious Minds" to get the latest stories, links to interesting articles and tips for writers.