There were always candy canes in our stockings on Christmas morning. Not only did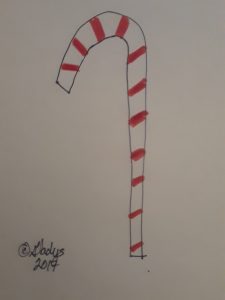 Santa put gifts under the tree, according to our mom, he also filled our stockings and left the candy cane at the top.
My grandmother had handmade stockings for my sister and me. Each December we pulled them out with the rest of the Christmas decorations and hung them on the mantle above the fireplace. Actually, the fireplace had been bricked up and a gas heater sat in its place, but the mantle remained and was the perfect place to hang our stockings among the other seasonal decorations.
Christmas morning, after opening our gifts, we'd turn our attention to the stockings. First, we'd remove the candy cane at the top. We'd pull back the plastic wrapper and suck on the peppermint-y sweetness as we emptied our stockings to see what else Santa had brought. We'd continue sucking away, the candy cane growing shorter by the minute, as we began playing with our gifts. We'd still be enjoying the last of it while helping pick up discarded wrapping paper and bows with sticky fingers.
We grew older and learned it wasn't Santa who put gifts under the tree after we went to bed on Christmas Eve. Momma still made sure the candy canes were in our stockings every Christmas morning. When we moved away to college, the candy canes still appeared. When we each married, and later when grandchildren arrived, more stockings were added to the mantle and a candy cane was in each one.
It was a tradition we all loved and expected. One year, my mom couldn't find the candy canes she was sure she had bought, so my sister and I were dispatched to the store to buy more. We fought a packed parking lot, a crowded store, and a long wait in the check out line to keep the tradition alive another year.
After I divorced and began spending some Christmases alone, I didn't bother buying candy canes. While I like the flavor of peppermint, I'm not a huge fan of the candy. Besides, I had no place to hang a stocking. So I stopped the tradition. Even now, after meeting my boyfriend, and moving in together, I don't do candy canes. Like me, he isn't concerned about decorating for Christmas, and he doesn't like sweets, so I didn't have a reason to renew the tradition.
But now he has a grandson, and I'm thinking the time may be right. I'll make a stocking, find a place to hang it, and put in a candy cane on Christmas morning, telling him that Santa left it just for him.
You can listen to an audio version of this story here.
Subscribe to the monthly newsletter "Writings For Curious Minds" to get the latest stories, links to interesting articles and tips for writers here.